Building a Better Bus Network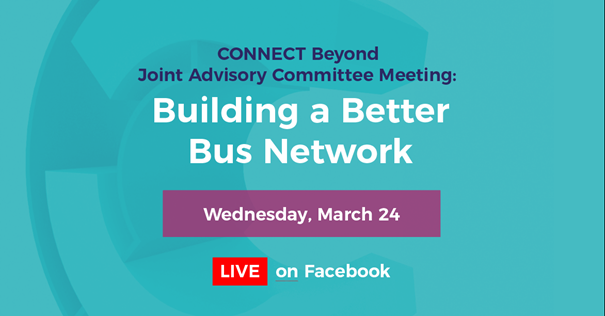 Thank you to everyone who attended our Joint Advisory Committee meeting about Building a Better Network on March 24.
At this meeting we discussed and identified strategies to enhance coordination between transit service providers to improve bus services and connectivity throughout our 12-county region.
Currently, to travel by bus across the CONNECT Beyond region, transit riders must navigate multiple transit services, all with different route frequencies, fare systems, websites, and technologies. The CONNECT Beyond Team is exploring ways to make it easier for riders to plan, play for and complete their trips.
To learn more about how the CONNECT Beyond team is working to Build a Better Bus Network in our region, you can watch our recent Advisory Committee meeting, review the presentation we presented to our Advisory Committees, or check out this Building a Better Bus Network fact sheet.
Watch the Committee Meeting
View the Presentation
View the Fact Sheet
Featured Panel Discussion
During this Joint Advisory Committee meeting, we had a panel discussion about various approaches for how to provide integrated bus services across a large metropolitan region. We heard from experts from across the country about how they approached integrated bus strategies as it relates to funding, inter-agency coordination, and community support. Click here to watch this panel discussion.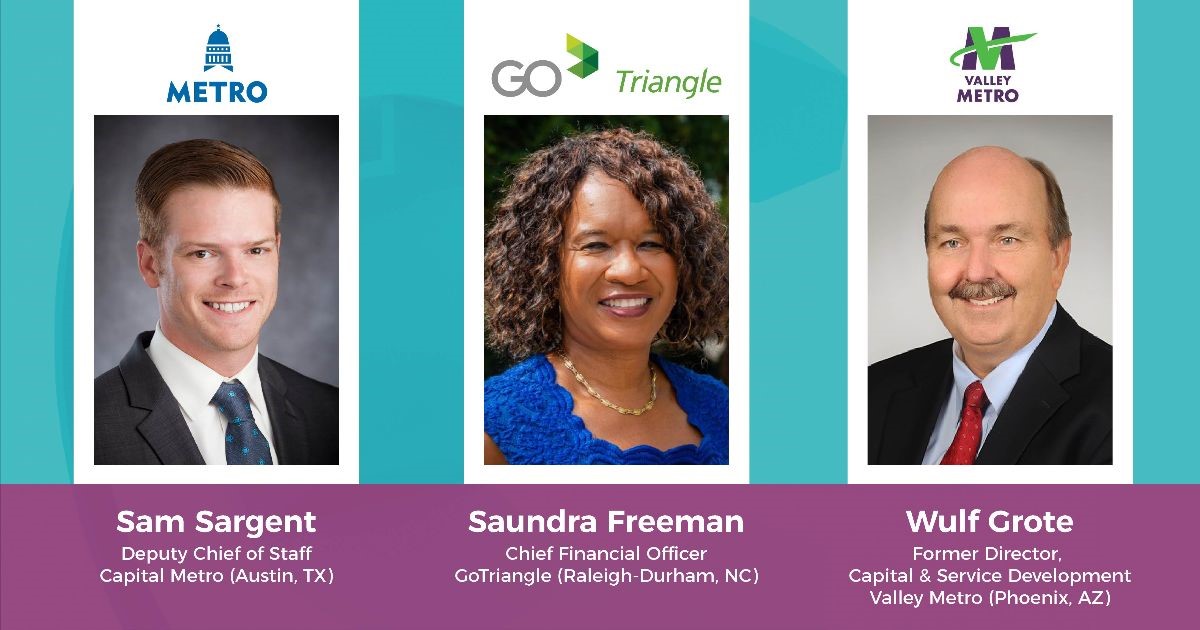 Sam Sargent
Deputy Chief of Staff of Capital Metro (Austin, TX)
Sam Sargent serves as the Deputy Chief of Staff of Capital Metro, the regional public transportation provider for the greater Austin region. Capital Metro connects people, jobs and communities by providing quality transportation choices to Central Texas. Created in accordance with Chapter 451 of the Texas Transportation Code, Capital Metro was established by a voter referendum on Jan. 19, 1985. The agency is funded in part by a 1 percent sales tax levied by members of its service area.
Sam is a lifelong advocate for transit and equitable mobility. He previously served as program manager for Capital Metro's Community Engagement office. A lawyer by training, he previously worked for U.S. Representative Lloyd Doggett, the Travis County District and County Attorney's Office, and a private firm in Austin. Sam is an Austin Under 40 finalist and a 2019 Mass Transit 40 Under 40 award winner.
---
Saundra Freeman
Chief Financial Officer of GoTriangle (Raleigh-Durham, NC)
Saundra Freeman is currently the Chief Financial Officer of GoTriangle, also known as the Research Triangle Regional Public Transportation Authority. In this role, Saundra is responsible for the management of GoTriangle's finances and investments, as well as the agency's contracts, procurements and grants. GoTriangle provides regional bus service for North Carolina's Research Triangle region which includes Wake, Durham, and Orange counties. GoTriangle operates regional bus, shuttle, paratransit, ridematching, and vanpool services. GoTriangle also provides commuter resources and an emergency ride home program.
Before joining GoTriangle in 2002, Saundra previously worked in finance and operations for Nortel, Datapoint, and Paradyne. Saundra is a member of the Conference of Minority Transportation Officials and the National Black MBA Association. She currently serves as Treasurer and board member of the NC Center for Women in Public Service. Saundra was named the 2010 Outstanding Chief Financial Officer in Government by the Triangle Business Journal.
---
Wulf Grote
Former Director, Capital and Service Development of Valley Metro (Phoenix, AZ)
Wulf Grote is the recently retired Director of Capital and Service Development for Valley Metro, the regional public transportation agency that provides coordinated transit services to residents of metro Phoenix. From regional bus, light rail and paratransit service to alternative commuter solutions, Valley Metro's core mission is to develop and operate a network of transit services.
In his role as Director, Wulf was responsible for high capacity corridor and facility planning, bus system and service changes, grant applications, on-board surveys, sustainability and system maps, design and construction management, project controls, quality management, facility public art and utilities. Under Wulf's leadership, Valley Metro created the Service Planning Working Group that brought transit staff from across the region to coordinate on bus expansion, semiannual service changes, marketing material and more. Wulf has been a leader in transit development for the Phoenix Metropolitan Area since 1985. Prior to his 12 year tenure at Valley Metro, Wulf spent 23 years with the City of Phoenix Public Transit Department serving as the Deputy Public Transit Director. Wulf also worked as a transportation engineer for the Regional Transportation District, which provides mass transportation services for the Denver/Boulder metro area and for DeLeuw, Cather and Associates.
---
Upcoming Advisory Committee Meeting
April 28, 2021 | Transportation Demand Management & Mobility Hubs
May 26, 2021 | Rural-Urban Connections & Transit Supportive Strategies
June 9, 2021 | Implementation & Partnerships
July 22, 2021 | Draft Recommendations
September 29, 2021 | Final Recommendations